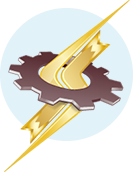 SMMS Enterprise
SMMS Enterprise is a highly customizable and functionality rich solution.
Customizable | Easy | Secure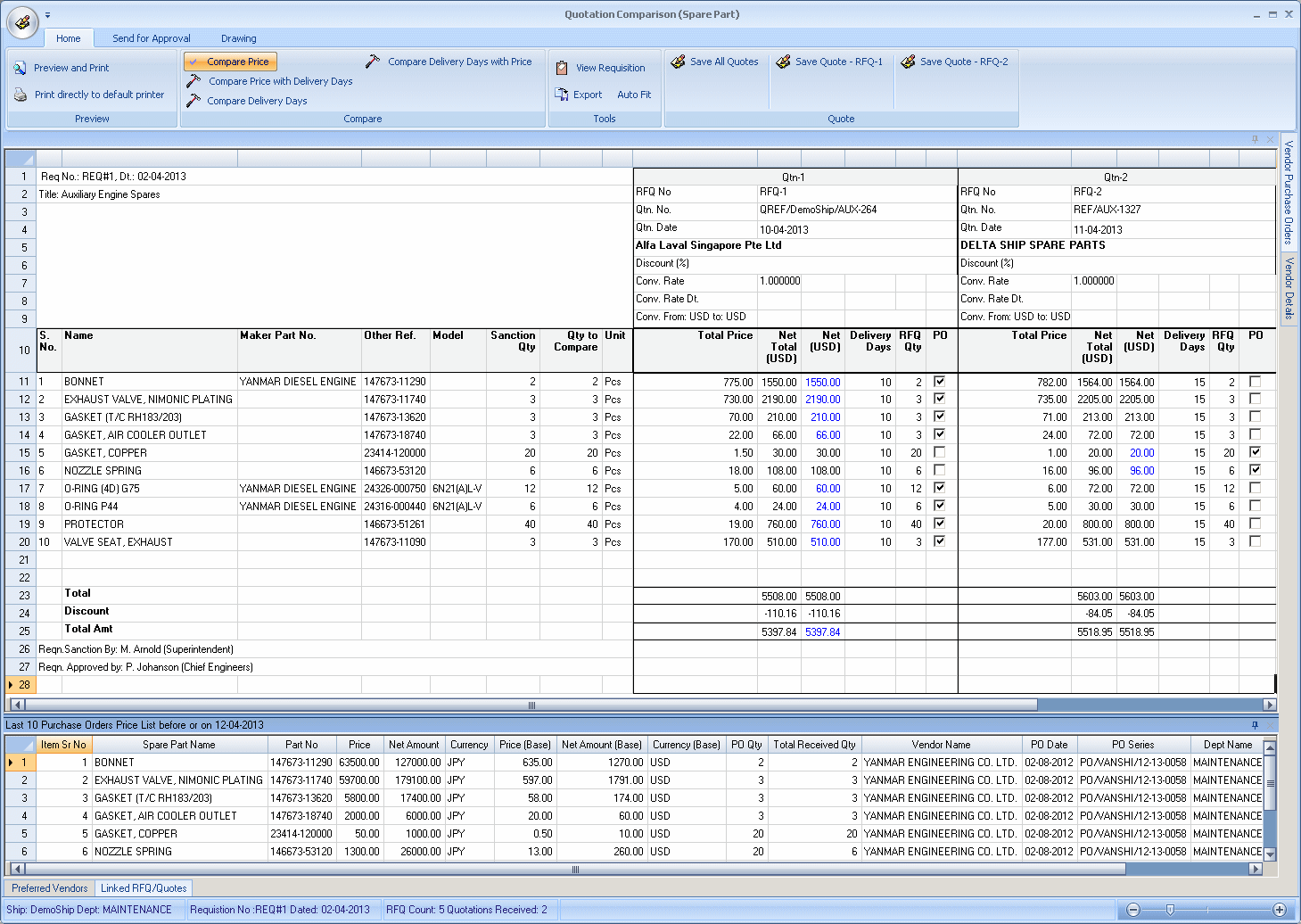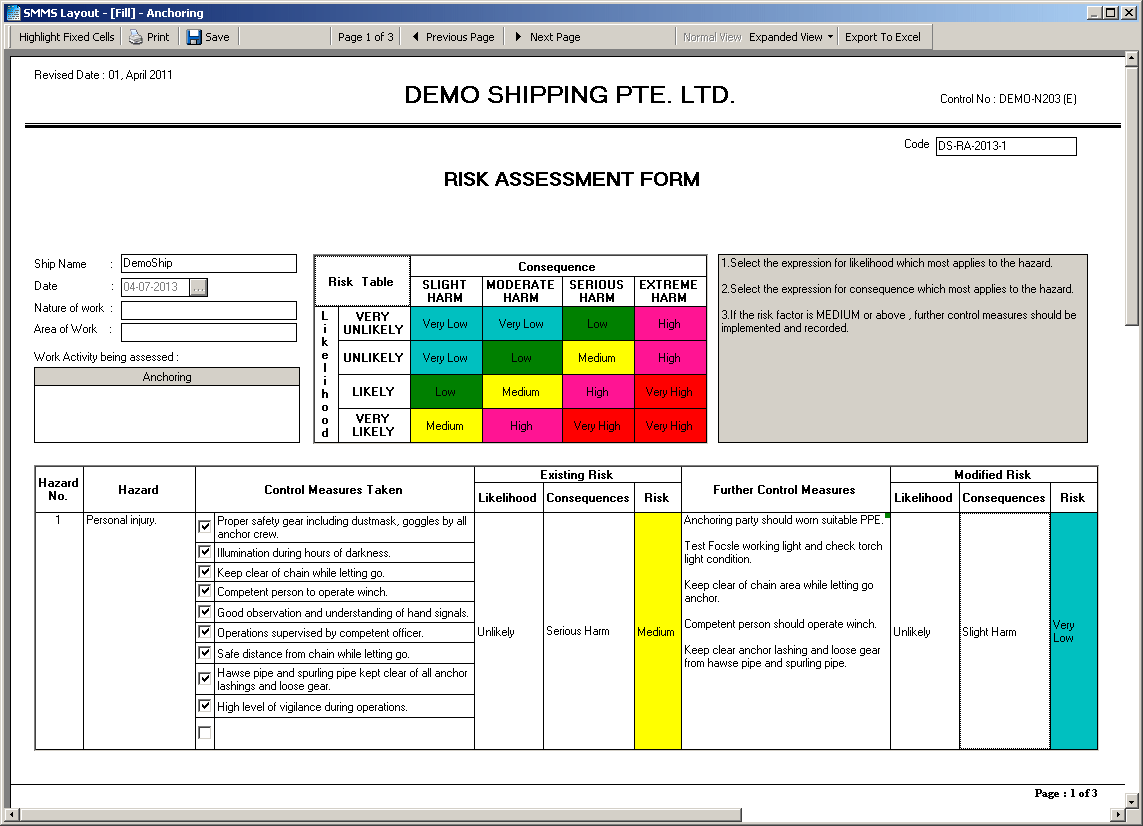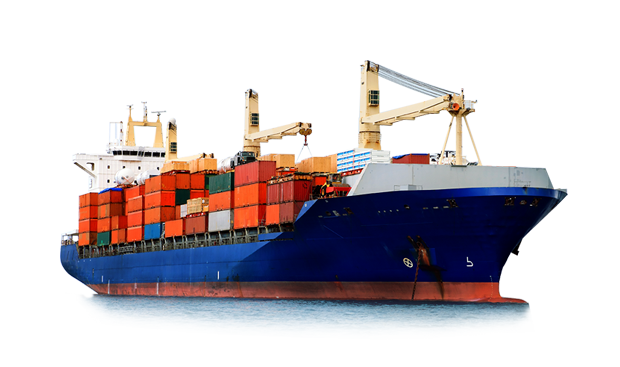 SMMS Enterprise is a highly customizable and functionality rich solution for scheduling planned maintenance jobs on-board, Budgeting, Fleet Procurement and Inventory Control, Health Safety Quality Environment, Fleet Management & Crew Manning, Dry Dock Specifications, e-Documentation, to simplify your existing processes and helps reduce costs.
SMMS software is Windows-based, with a unique User Friendly Interface and a high level of Data and Software Security. SMMS is designed to be a Multi-User Software and can be run on any type of Windows-based Network with several users able to access it simultaneously.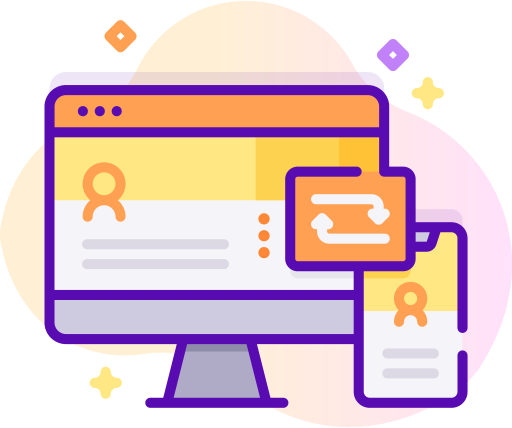 Automatic Advanced Data Replication
Manage complete ship data offshore, with automatic sync. Control every aspect of data on your fleet of vessels. With the help of online compression and encryption, the Advanced Data Replication feature allows maximum data to be transmitted with minimum communication costs.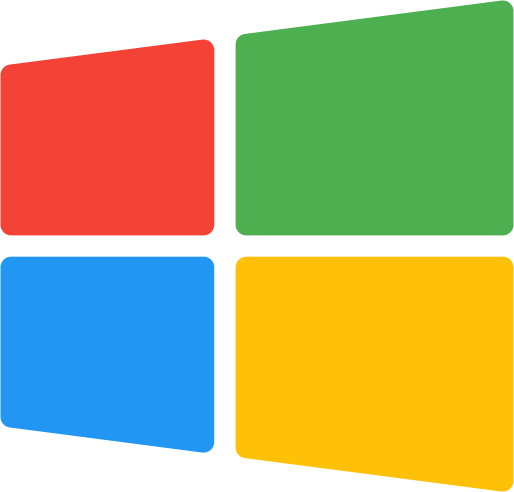 Supports all Windows OS & Virtual Environments
A Client-Server based PMS Software, it works equally well on both stand alone computer and multi-user network. It can be successfully deployed in a Virtual Environment as well.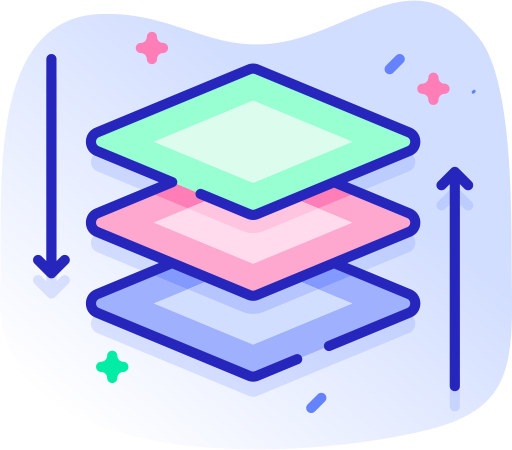 Seamless integration with SHIPSERV/SHIPLINK
SMMS is seamlessly integrated with SHIPSERV as well as SHIPLINK to manage all your requisitions, purchase orders. This makes it easier to integrate with your existing purchase practices.
Planned Maintenance System
PMS provides you a simple user friendly interface to schedule and report your maintenance jobs in a few simple clicks. SMMS allows the users to view description of the work to be done, along with the relevant procedures, Documents and Images etc at any time, which helps in performing and reporting jobs easily and efficiently.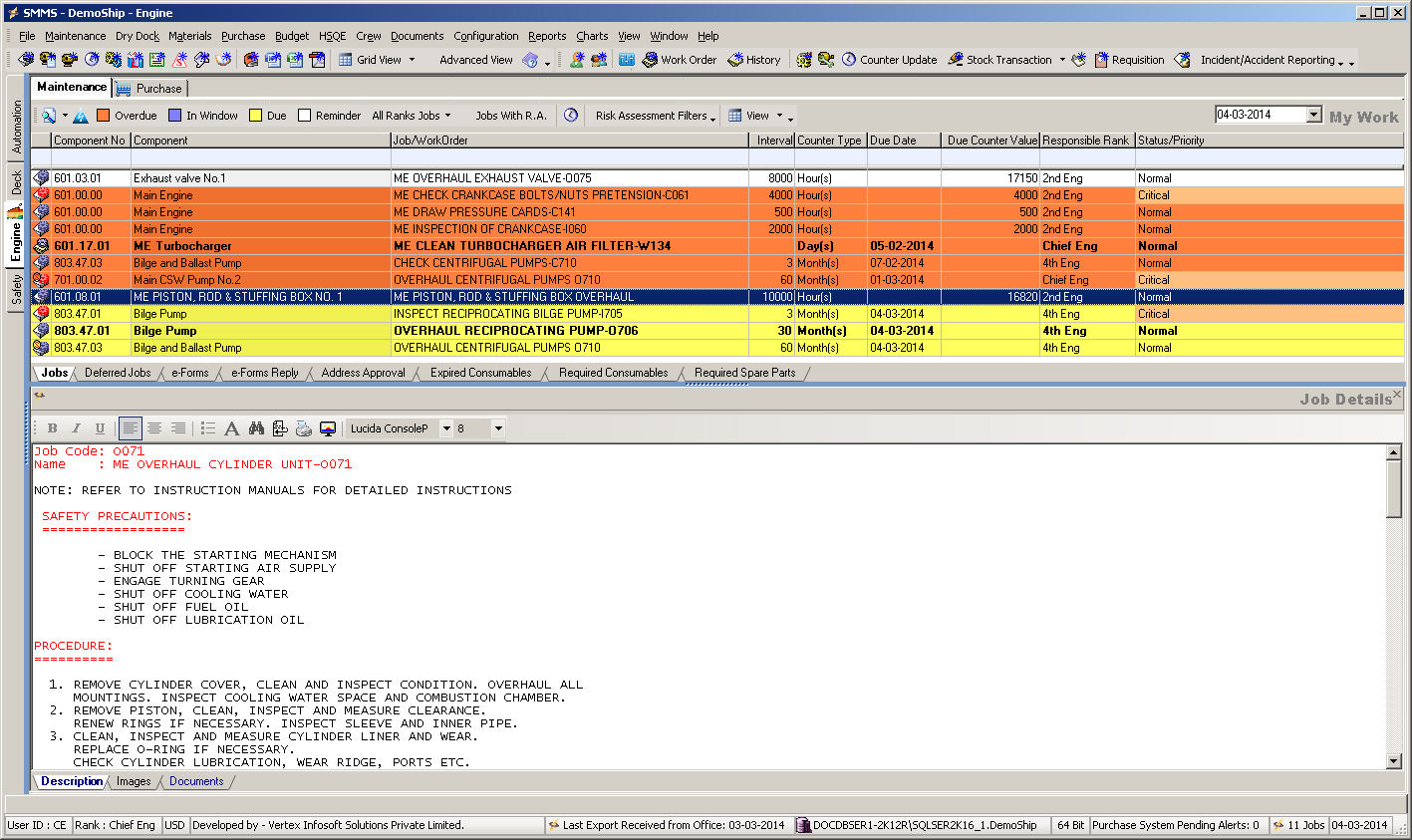 Fleet Procurement and Inventory Control
SMMS aids in efficiently handling your purchases on-board. Using SMMS, it becomes very easy and simple to create requisitions and purchase orders to get your spare parts and consumables. SMMS integrates with a number of other purchasing solutions too!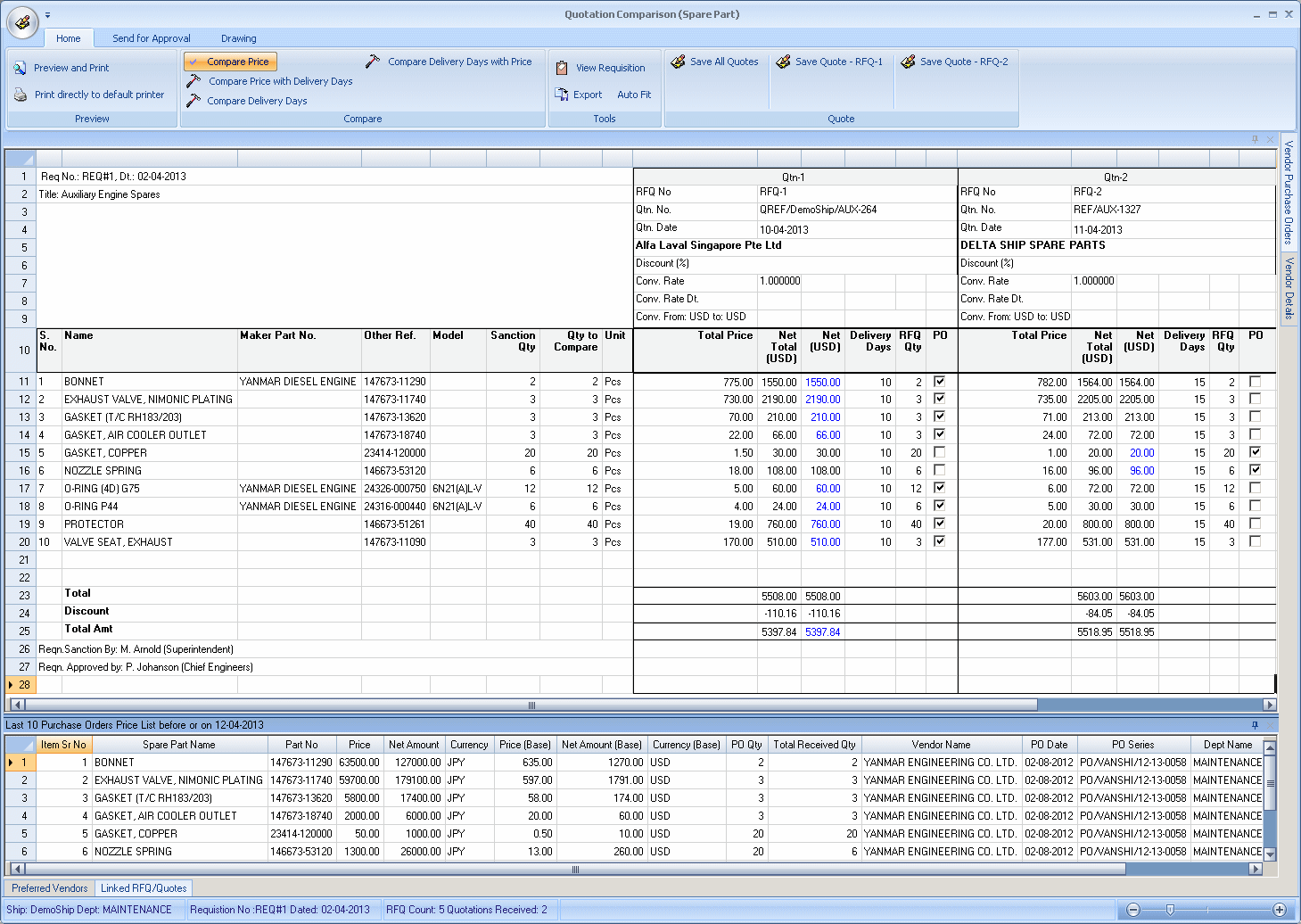 Budget your expenses
Maintain your monthly/ yearly expenses with SMMS effectively. The extensively flexible budgeting feature allows you to manage your budget accounts for each module separately.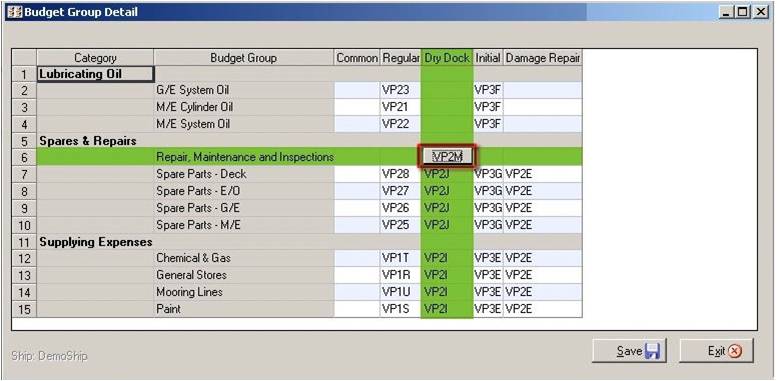 Bring your Crew Data along
This module is empowered to handle all Joining, Contracts, Sign On/Off, Planning, Appraisals and Promotions automatically. The Crew Management System gives complete control over all crew-related forms and functions, allowing the user to maintain a proper profile of any crew member at any stage.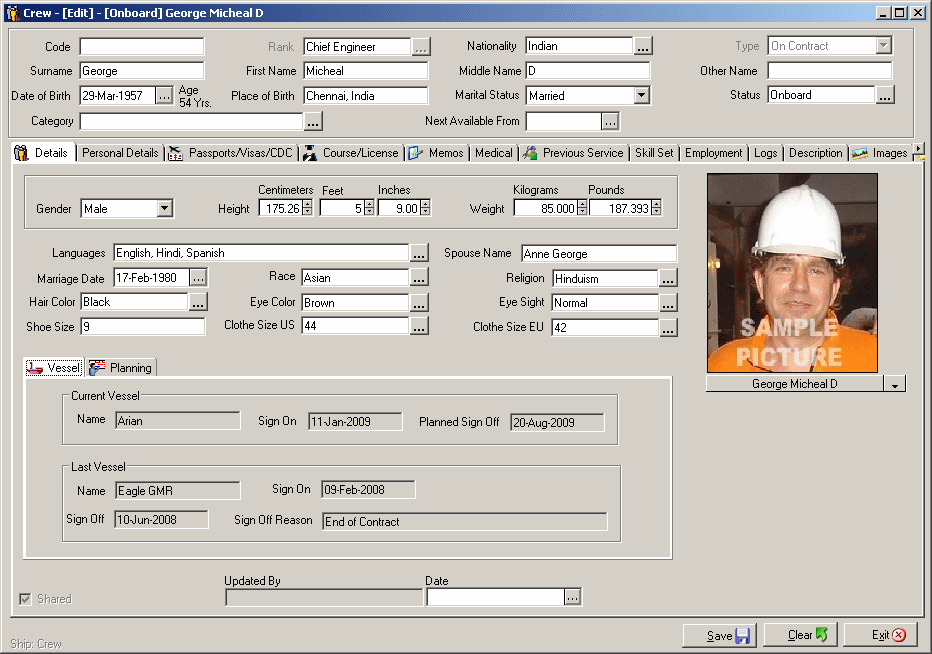 Health Safety Quality Environment
All the Certificates, Inspections, Drills, Risk Assessments, Non Conformities, Incidents, Accidents, Injuries, Near Misses, Reporting etc. can be effectively managed using this extensive module. This powerful feature assists in keeping records of Issue and Expiry details, Port of Issue, extensions if any, and the descriptions of all Certificates and Inspections.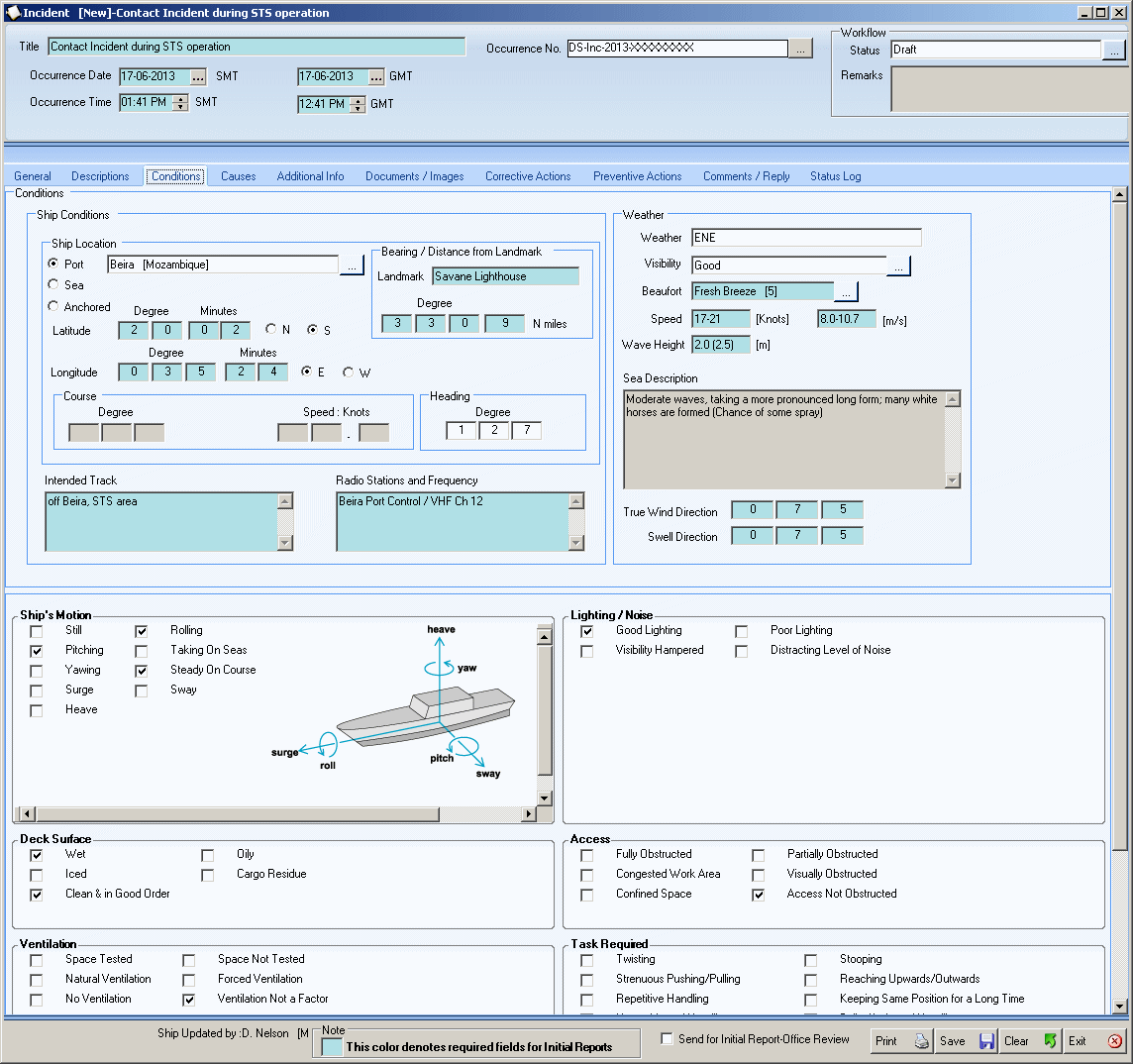 Dry Dock Specifications
The module allows production of professional specification documents for dry docking. System maintains different versions of job definitions in order to track the changes made to them. While preparing new specifications, previously written job descriptions and standard work descriptions can be used to save time. The system enables the ship staff to send specifications to the shipyard and accept tenders electronically.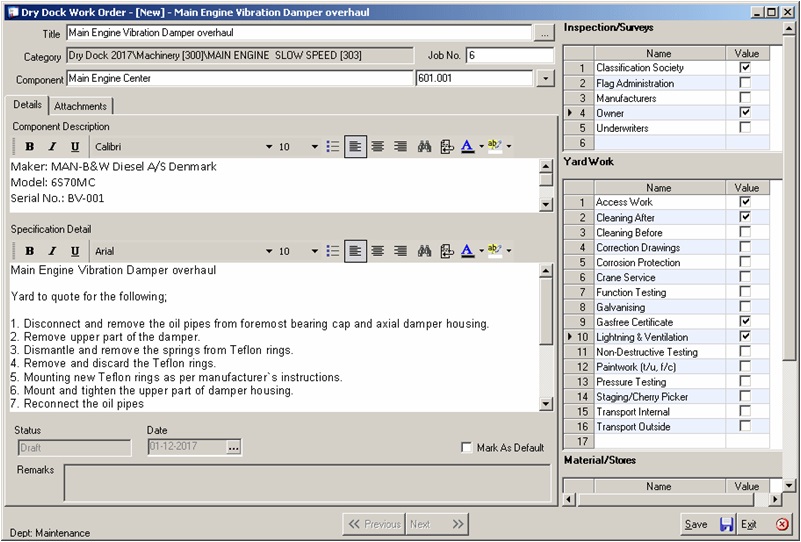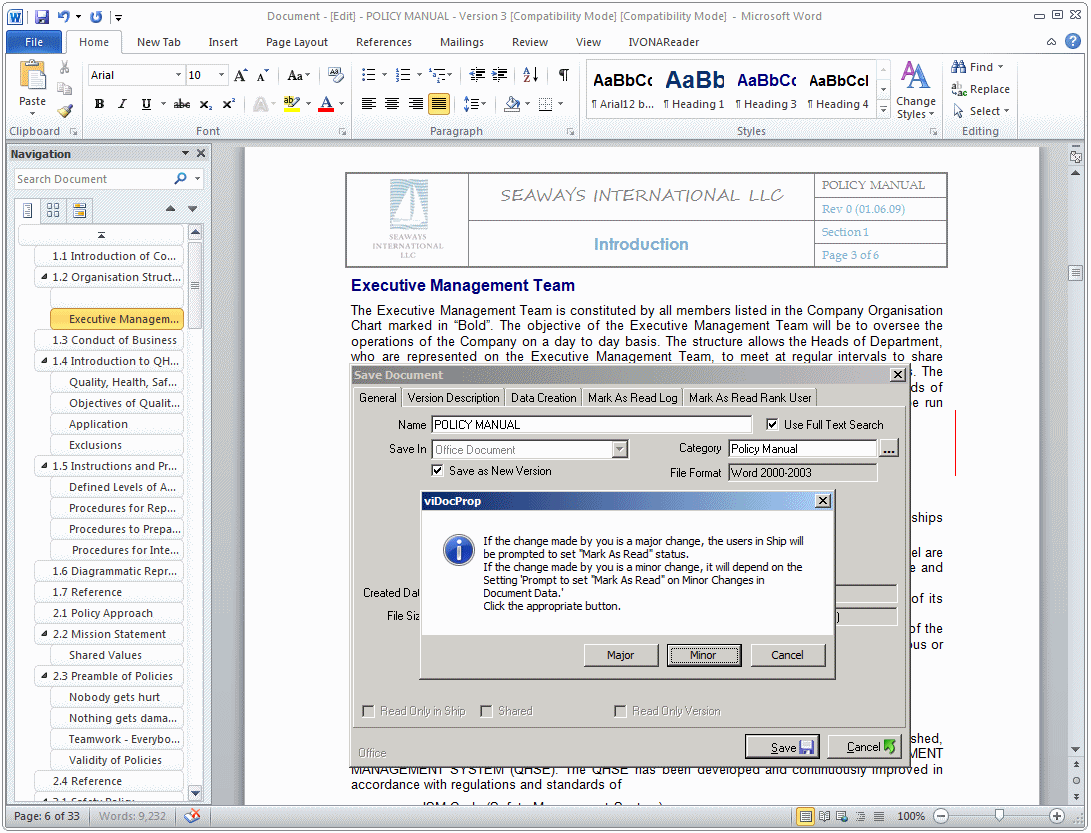 eDocumentation
Maintain all your daily/weekly/monthly/yearly/occasional documentation of company forms collaboratively. All major formats for documents are supported. The Versioning system helps in keeping track of any changes/updates made to documents stored within SMMS. A record is kept of previous versions of the document, allowing a user to see when and by whom the document was modified, as well as what changes were made. SMMS also includes a custom made SMMS layout, in which you can create your own designs.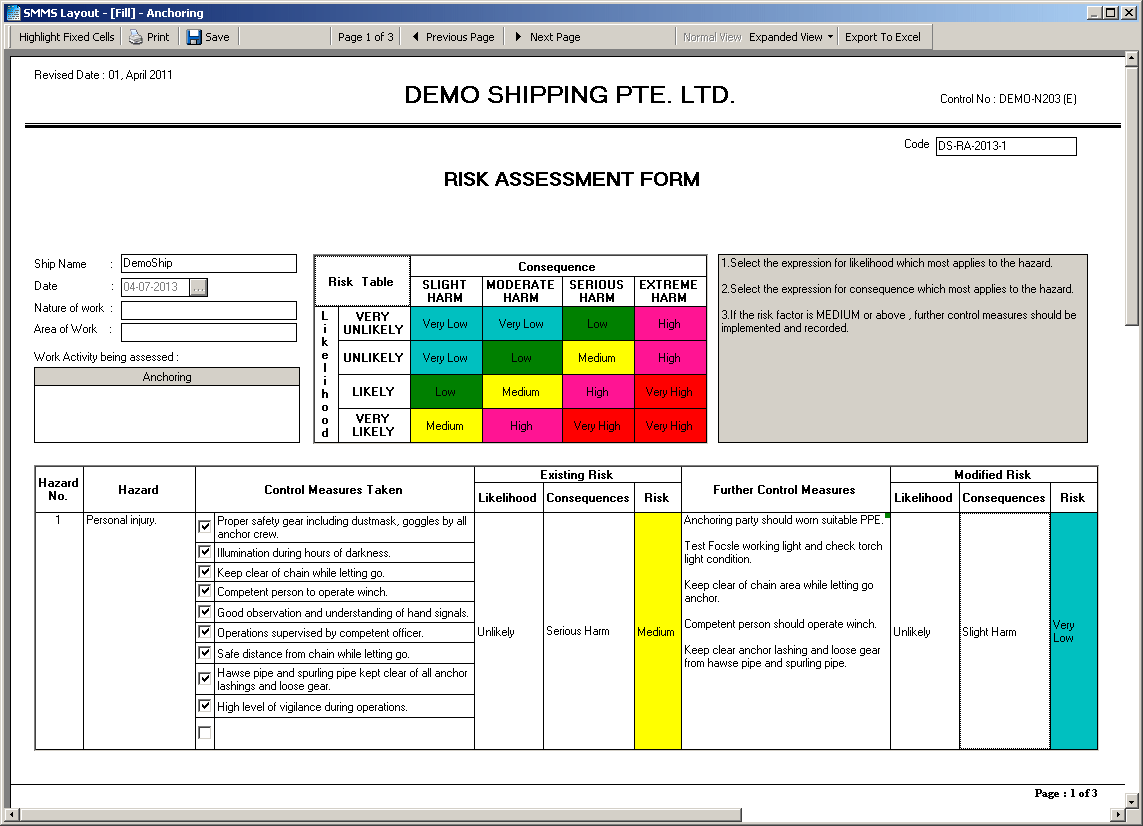 Risk Assessment
Reduce the chances of accidents onboard, by filling out RA forms, and minimize risk to the ship staff while performing hazardous tasks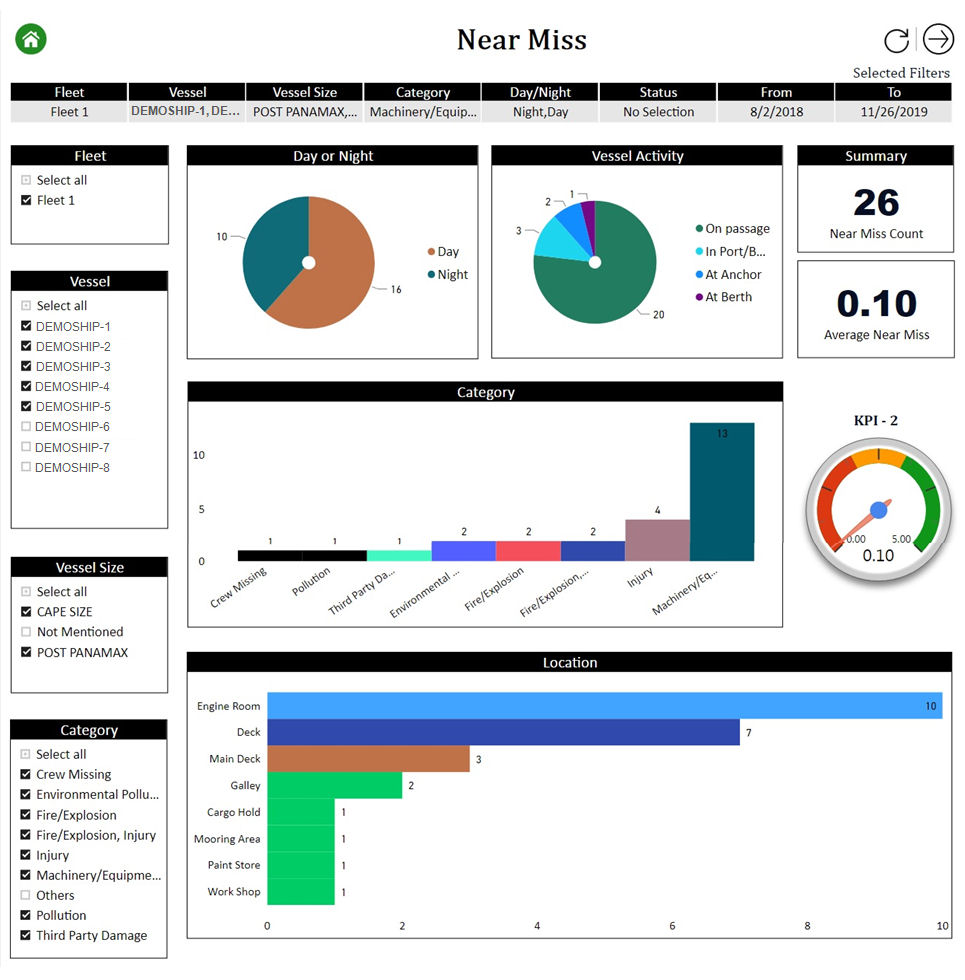 BI Dashboard/ Key Performance Indicator
Generate KPI reports for analyzing mass data in an easy and presentable way. The report offers a concise and accurate account of all tasks that are pending, done, deferred, etc. at any period, without the need for users to manually check all the Maintenance Logs. Such reports can be immediately helpful at the time of audit. BI dashboards are available for analyzing data in depth.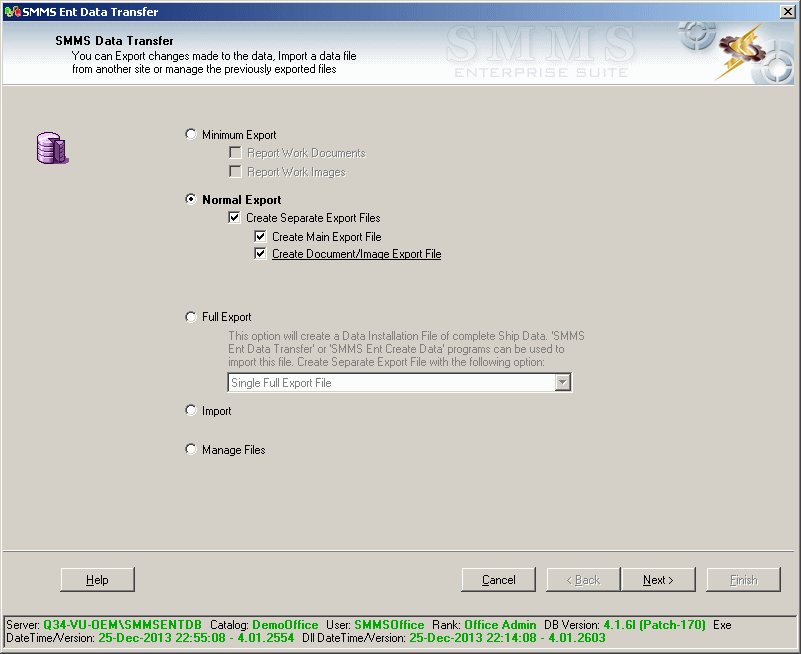 Automatic Data Transfer!
Sync data between your fleet of vessels and office using the SMMS import/export functionality automatically or manually at your convenience.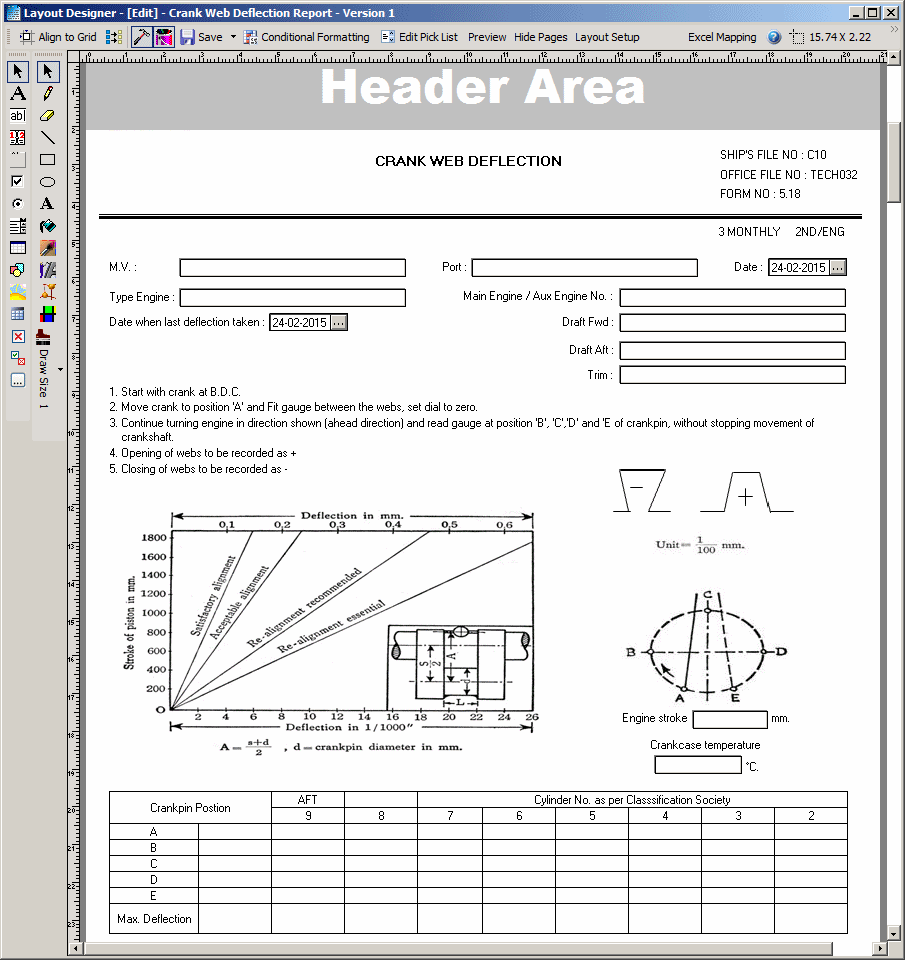 Our very own Layout
Designer & Text Editor!

Generating layouts or forms doesn't get easier than this. An inbuilt, user-friendly Layout Designer for creating various forms and documents, suited to the client's requirements has been provided in SMMS. A new Layout can be created from within the designer. Various types of custom fields have also been provided for use with Layouts. These Layouts & Templates, once created, can be attached and used with any number of forms.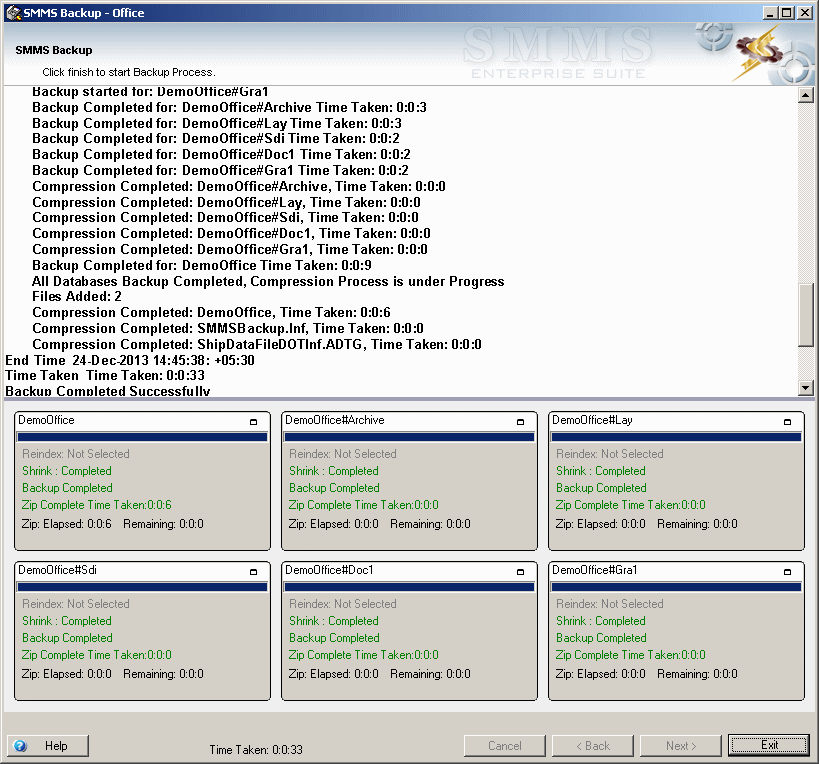 Backup data automatically!
It is very important to backup your data at regular intervals to make sure that the data is protected and backed up in the event of emergency. With SMMS, you no longer need to worry about your data. SMMS has provision which generates scheduled backups of all your vessels and office data automatically.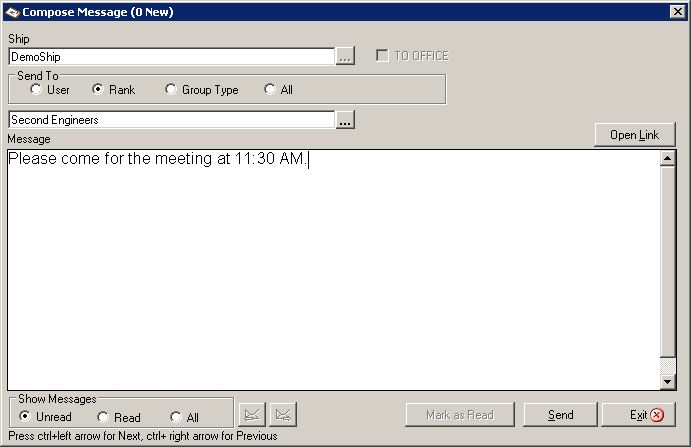 Send instant messages
among users!

Instant messages can be sent to ship or office staff. The instant messaging module gives you a quick and easy way to communicate with your crew.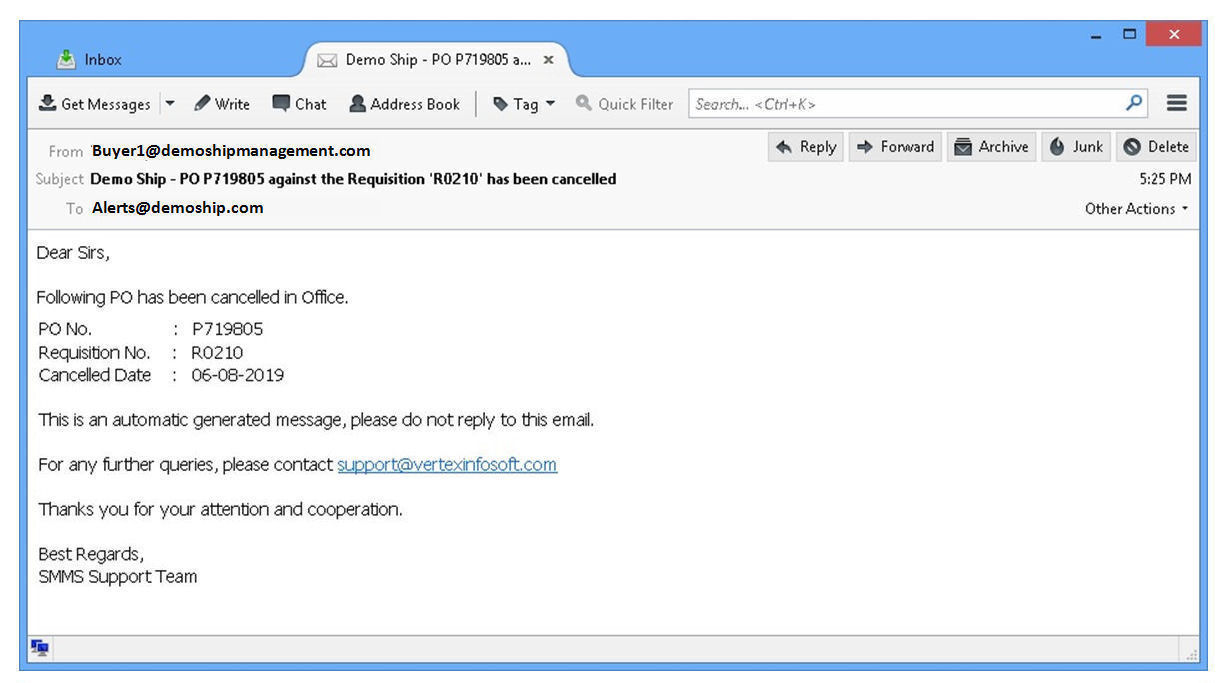 Alerts for required actions
SMMS will generate customized alerts for the user when any action is required. System alerts and/or email alerts can be configured as per the client requirements. Alerts can be generated for various events like pending PMS jobs, Purchase related alerts, budget overflows etc.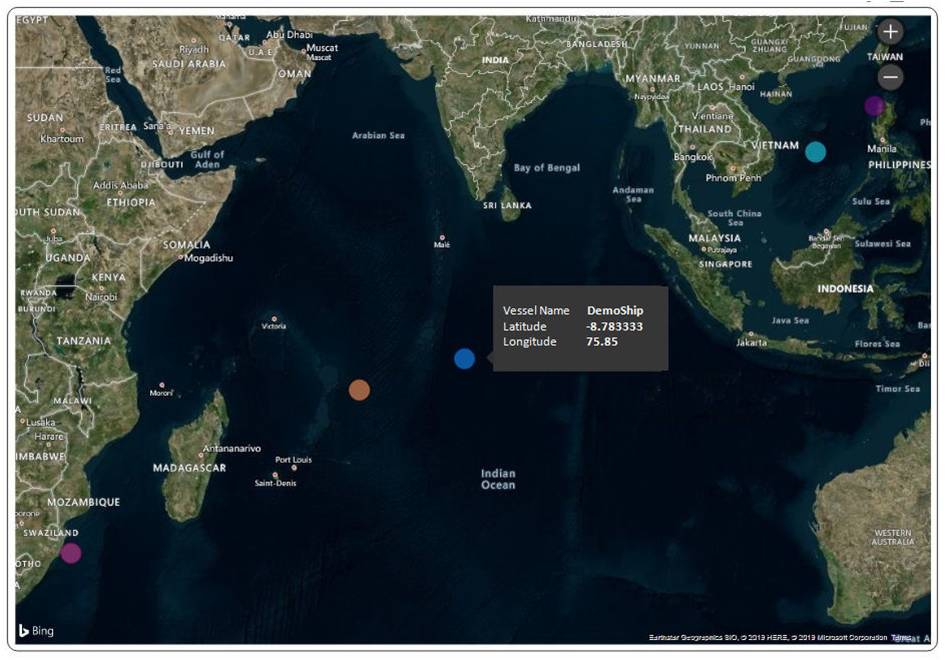 Trace vessels on
a world map!
This powerful and extensive feature enables you to track your vessels on the world map. SMMS uses co-ordinates updated daily on board to trace the path followed by the vessel on a map.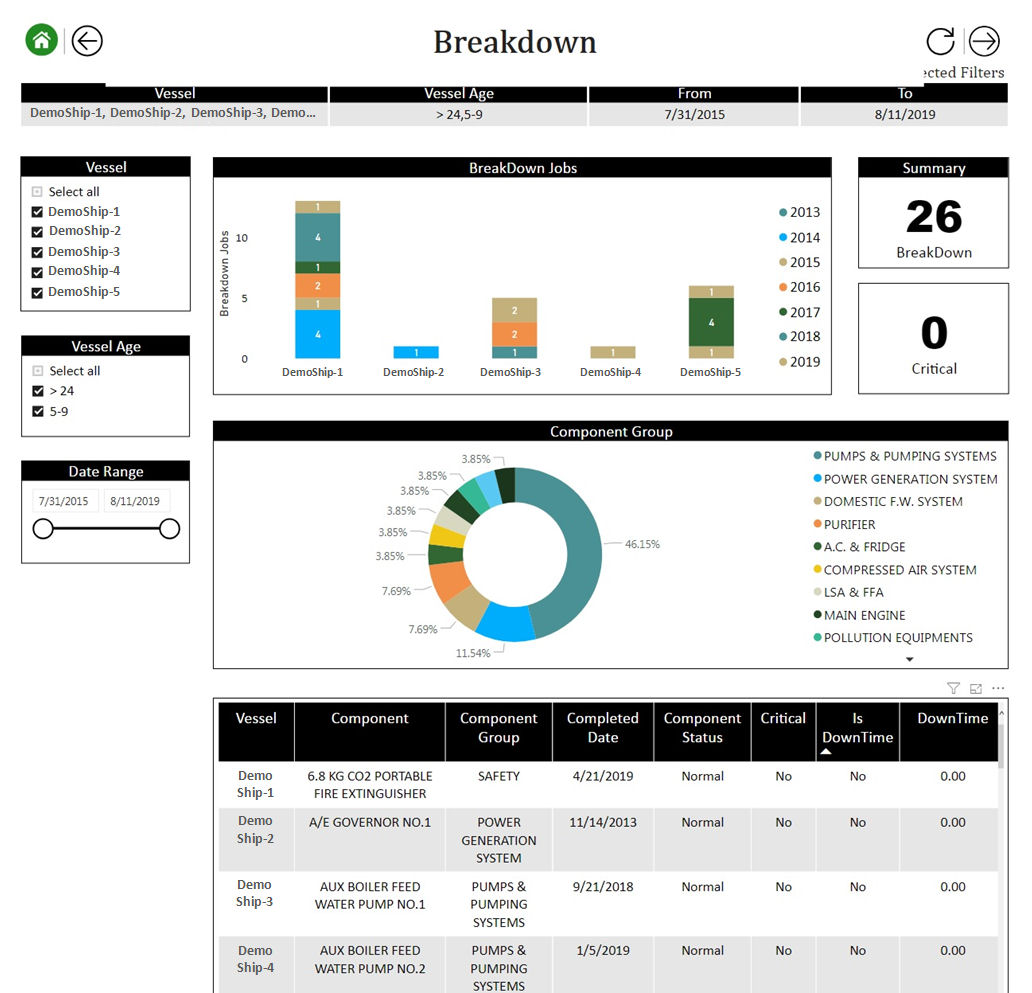 Management Information System
Extensive and highly configurable Charts and Reports are available for MIS and Budget Management. Various options are available to extract reports in either list or detail format, with user defined selection of fields. These reports and charts can be used for drawing up future budgets and verifying the effectiveness of a Planned Maintenance System onboard a vessel.
Office
Plot Number I-64, Sector 83-A, IT City, Mohali (Punjab), India